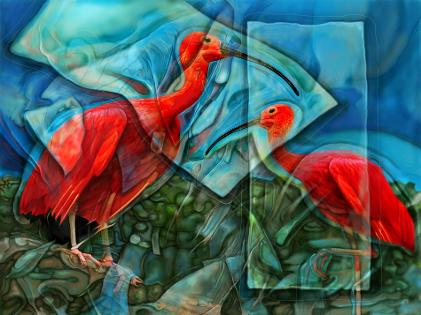 In celebration of its 50th anniversary, Unifor hosts the exhibition "Naza na Natureza"
The exhibition can be seen through virtual reality glasses and, in person, on tree trunks on the University campus.
Naza in Nature
Naza has embarked on a very special project in her native country. It consists of two simultaneous exhibitions. The first is an outdoor installation on the grounds of the University of Fortaleza (UNIFOR), with its great variety of plantings. In it, Naza "dresses the trunks of 20 trees with art on fabric created specifically for them." A painting greets the visitor at eye level, and extensions of it continue above (up to 5 meters high), below, and on the sides. Each wrap starts with a high-resolution photo of a painting or a digital artwork. The fabric is stretchy, highly breathable, and will do no harm to the tree during the three months that the installation is up. The idea was a collaboration with the university, which has one of the largest and most important art collections in Latin America, including two of Naza's own paintings. "I needed somebody in the right place to believe in it," the artist remarks. The installation will begin on May 11. Naza is doing the work while in South Florida; she sends digital files to Brazil to be printed on the fabric. The second part of the project involves a computerized version of the exhibition in 3D, to be visited by people from all over the world. It is being developed by a university department, which is also investing in 3D glasses for local visitors. While a viewer is experiencing the display with glasses, other people in the room can immerse themselves in a 2D version on a large screen. The pioneering work achieved in this exhibition will make it possible to have any UNIFOR art exhibition turned into 3D for people all over the world to view online. The implications for the enjoyment of art are limitless.


I am infatuated with the way opposite views interact. I chose to oppose abstraction versus realism to convey that thought.
When I am using oil on canvas, I either start a completely abstract approach, then, work towards making certain elements resemble recognizable objects, events, or living being or I start from the opposite direction: I quickly create a very realistic image, and, before it dries, I abstract it. The idea is to paint not only a certain subject, but also my own perception of what is happening to it, how it influences its environment, and how it is influenced by it. Thus, each artwork is like an event.
There aren't any extra layers, and the texture is negligible. The only tools used in the painting process re brushes and a piece of rag to wipe out certain areas. The only materials are oil paint and thinners. Most of the apparent texture of the final work is an illusion achieved with the use of light and dark.
In both approaches, I follow nothing but my deepest feelings.
When I am doing my digital artworks, I use virtual brushes. For each detail, I choose the size and the shape of the brush; how wet or how dry I want the stroke to be; how much pressure I want to use; how transparent; how soft, and other attributes. I don't use any automatic tools such as filters, glow, or shadows. From time to time, I add an illusion of texture which I, then, distort/enhance, whichever I choose to do at that time.
Whether I am painting with oils or using the computer, my style is the same. I am still opposing abstraction and realism as the coexistence of opposite views; I continue placing the main subject within and mixed with the background, instead of in front of it; Ultimately, emotions guide me in the process of making art.
Naza's art has been exhibited in major galleries and museums in South, Central and North America, as well as in Europe. Her art is unprecedented in style. As the creator of the "Abstracted Realism" concept, this Brazilian American Artist sets in motion an unrivaled interplay of lines and forms as she creates her famous "cosmic windows". Her paintings are part of several important collections, including President Bill Clinton, President Barack Obama, President Dilma Rousseff, President Fernando Henrique Cardoso, The Ayrton Senna Institute, Ivana Trump, Brigitte Bardot, Roberto Carlos, The West Point Academy, and The Florida Marlins, among others. This website features original oil paintings, digital artworks on canvas, NFTs, and giclée (giclee) prints on canvas. Most of her subjects are the human figure, wildlife art of endangered species, abstract art, and portraits.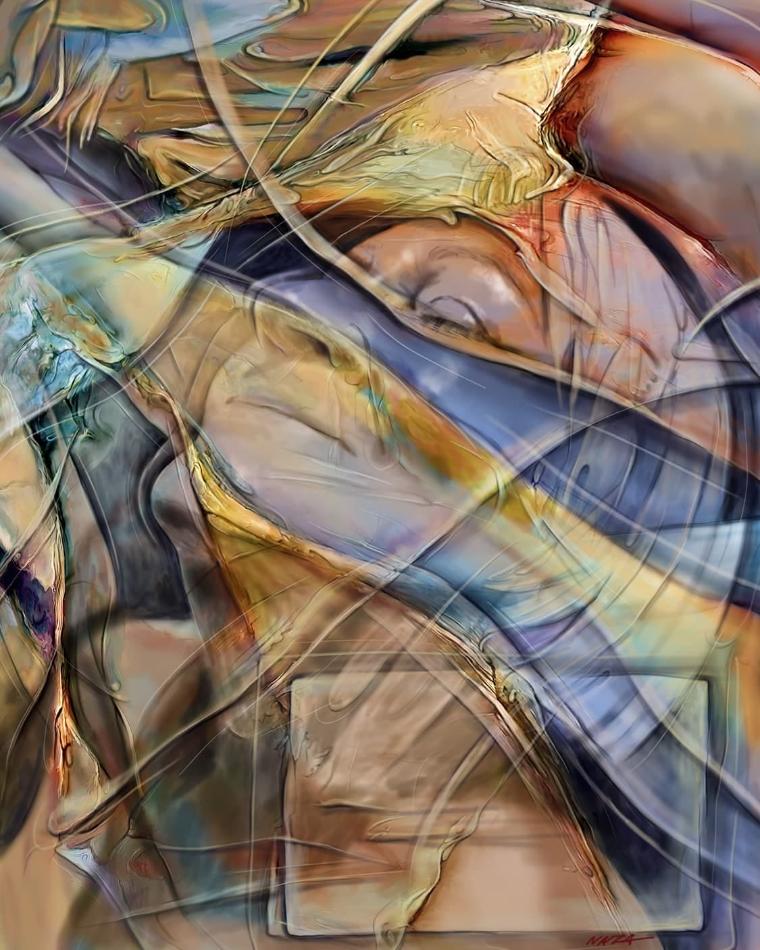 The Artist's self portrait - hand made digital artwork - 35" x 46"


All rights reserved - NAZA -1990